Welcome to Nutrition Services!
We need help from our parents, teachers and students!
Please help us to continue providing free breakfast and lunch to all our students.
Are you willing to write to your state legislator about the importance of child nutrition programs and the need for statewide universal school meals?
Hunger Free Vermont is collecting letters/messages to be sent to every state representative and senator.
Read the Universal School Meals Letter and join us in declaring that every student, every day, at every public school in Vermont deserves access to school meals.
Good nutrition and learning go hand in hand!

The Nutrition Services department is made up of a team of food and nutrition professionals that are dedicated to students' health, well being and their ability to learn. We support learning by promoting healthy habits for lifelong nutrition and fitness practices.

Meals, foods and beverages sold or served at schools meet state and federal requirements which are based on the USDA Dietary Guidelines. We provide students with access to a variety of affordable and appealing foods that meet the health and nutrition needs of students.
FOOD DELIVERY/PICK-UP INFORMATION
We are thrilled to announce that thanks to some late Federal funding, breakfast and lunch will be FREE for ALL students. This service will be available until the end of the 2020-2021 school year.
Breakfast and lunch will be available to all students, regardless if they are learning in-person or remotely, and families will not need to pre-order. Menus are available at www.csdmeals.org. If the student is learning in-person, meals will be available for every student in the classroom, however, they can also choose not to have a meal. Unfortunately, we will not be selling ala carte items to start the year. We hope to be able to add this option in the future. For remote learners, we will be using our school buses to deliver meals to 20 locations throughout Colchester, Monday - Friday. Details with pick up locations and times are listed below.
We know not every student will want a meal and to mitigate wasting food, we are going to make our best guess at how many meals to prepare for our buildings and for delivery. We thank you in advance for being patient with us as we calibrate our numbers during the first couple weeks of school.
We don't know how long this funding will last, so we still encourage families to apply for free/reduced meals. The application is quick and easy. You can access the application at https://www.myschoolapps.com. The application is available in: English, Spanish (Español), Arabic (العربية), French (Français), Filipino (Tagalog), Vietnamese (tiếng Việt) and Chinese (Mandarin (官話). The paper application is available in Nepali (नेपाली).
Remote Meal Delivery Routes: Times and Locations
Meal Bus #1 (West Route)
10:35 - Parking lot across the street from Mazza's General Store

10:55 - Thayer Beach/Rossetti Natural Area

11:15 - Airport Park

11:35 - Porters Point School

12:00 - Price Chopper

Over by the old bank, furthest away from the store.
Meal Bus #2 (East Route)
10:35 - Bay Road/Granite Creek Road

Near the mailboxes by Stone Drive

11:05 - Intersection of Julie Dr/Jeffrey Dr.

11:25 - McGuillicuddys

11:55 - Westbury Park

12:10 - Oak Terrace
Meal Bus #3 (North Route)
10:45 - Burnham Library

11:15 - Union Memorial School

11:35 - Breezy Acres on Creek Farm Road

Behind the Breezy Acres sign at the entrance of 4th Street

11:50 - Justin Morgan Drive/Hollow Creek Drive

12:20 - Clay Point Fire Station
Meal Bus #4 (South Route and CHS)
10:35 - Abigail Drive/Carriage Way off of Malletts Bay Ave

10:50 - Morehouse Drive

Near the community center and playground

11:15 - Winchester Plac

At the office on Douglas Drive

11:30 - Ethan Allen Ave

Near the Early Learning Center

12:05 - Colchester High School

Rear/side parking lot loop near the entrance to the athletic fields
Check out the Veggie Education that UVM students created for MBS students.
Tips for growing, storing and recipes!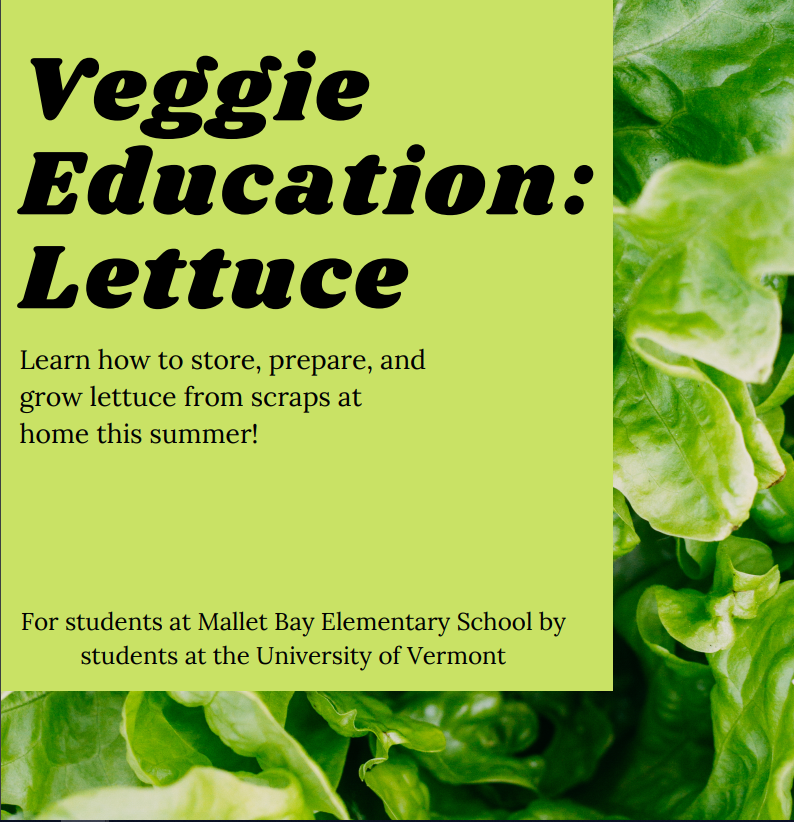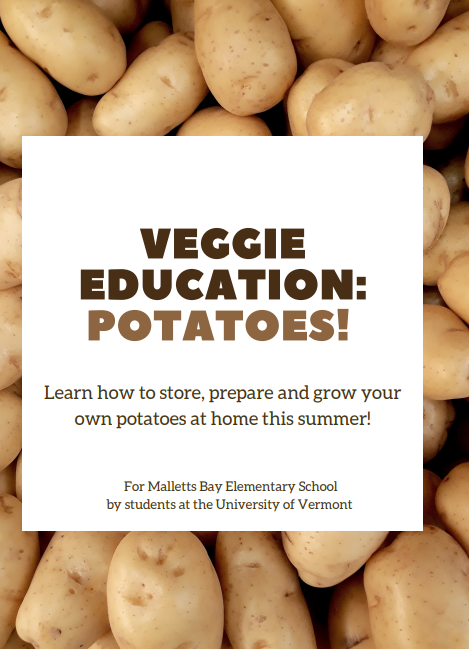 Veggie Education Potatoes